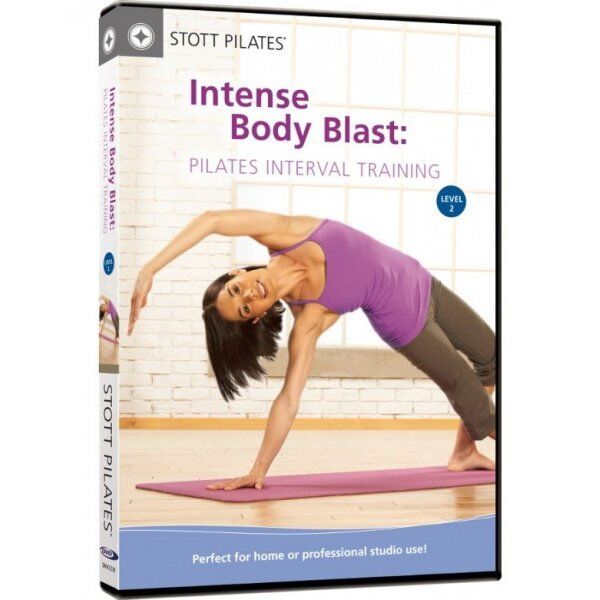 This intense workout focuses on improving the strength and stability of your arms, legs, shoulders, hips, and core, and is designed for anyone wanting to take their conditioning to the next level. Using only a mat, the exercises will help prevent injury while improving precision, control, power and agility. This program is especially beneficial for avid exercises who want to retrain muscles that may have become imbalanced while improving coordination and stability.

MORE INFORMATION
Take it to the extreme with an intense strengthening workout.
WORKOUT LEVEL: Advanced (Level 5 of 5)
LANGUAGE TRACK: English
EQUIPMENT REQUIRED: Mat
DVD CONTENTS
•59 exercises
•Workout time = 48 minutes
•DVD Length = 87 minutes
EXERCISES:
•Breathing
•Full Roll Down
•Squats
•Standing Cat Stretch
•Spinal Rotation in Half Squat
•Spiderman Stretch
•Lunges Facing Side
•Standing Roll Up
•Shoulder Rolls
•Unilateral Elbow Circles
•Unilateral Arm Circles
•Standing Side Bend
•Head and Neck Movement ◦Rotation
◦Lateral Flexion
◦Head Nods
•Ab Prep◦Upper Body Only
◦With One Leg
◦With Both Legs
•Shoulder Bridge Prep
•Breast Stroke 1
•Breast Stroke 3 With Heel Squeeze
•Hundred
•Slow Bend & Stretch
• Half Roll Back
•Unilateral Arm to Side
•One Leg Circle In Shoulder Bridge
•Spine Twist Kneeling
•Rolling Like a Ball
•Ab Series◦Single Leg Stretch
◦Obliques
◦Double Leg Lift & Lower
◦Unilateral Scissors with Obliques
•Roll Over Prep - Reverse Crunches
•Shoulder Bridge Mods Lift and Lower Hips ◦One Leg Tabletop
◦Combo
•Breast Stroke with Heel Squeeze
•Standing Saw
•Thigh Stretch Kneeling with Chest Press ◦Hinge Back with Flies
•Obliques Roll Back with Bow & Arrow
•Open Leg Rocker
•Side Leg Lift Series with Top Hip Forward ◦Top Leg Lift
◦Top Leg Hold Bottom Leg Lift
◦Legs Lift Together
◦Legs Lift with Upper Body
•Laterally Flexed
•Spine Stretch Forward Kneeling ◦Swan Dive Prep
◦Swimming Prep
•Plank Section◦Leg Pull Front Prep
◦With Plank Hold
•Side Plank◦With Pulses
◦With Plank Hold
•Push Ups into Twist
•Roll Down
•With Shoulder Rolls
•With Head Nods and Head Shakes
•Roll Up
•Standing Side Bend
INSTRUCTOR
John Garey is a Master Instructor Trainer for Merrithew Health and Fitness™ and an integral member of the company's programming team. John specializes in STOTT PILATES® and CORE™ Athletic Conditioning & Performance Training. He is also a featured instructor in many Merrithew Health& Fitness™ professional and consumer DVDs sold around the world.
Stott DVD | Intense Body Blast: Pilates Interval Training, L2